Malanda State High School
Malanda liegt auf dem natürlich klimatisierten Atherton Tablelands, 70 km westlich von Cairns im Norden von Queensland. Malanda ist von tropischen Regenwäldern und Welterbestätten umgeben und liegt nicht weit von den Wäldern von Sclerophyll im Westen und einem Tagesausflug zum Great Barrier Reef im Osten entfernt.
Kurzprofil:
At Malanda State High School (SHS), we take great pride in our strong academic values and deep sense of community.  Our small school is recognised as a 'place to excel' academically and where students also enjoy a rich and regular program of cultural, sporting and social activities. Malanda SHS invites international students from around the world to experience our beautiful environment with its spectacular natural features, and we welcome the diversity and wonderful input you will bring to our school.
3 Gründe für einen Schüleraustausch an der Malanda State High School
Anerkennung als Schule von herausragender akademischer Exzellenz in einer kleinen, freundlichen und sicheren Gemeinschaft.
Individuelle Betreuung aller Schüler durch starke Lehrer-Schüler-Beziehungen.
Ein Ort, umgeben von tropischen Regenwäldern, vulkanischen Seen, Wasserfällen sowie Flora und Fauna wie Baumkängurus.
Malanda State High School Students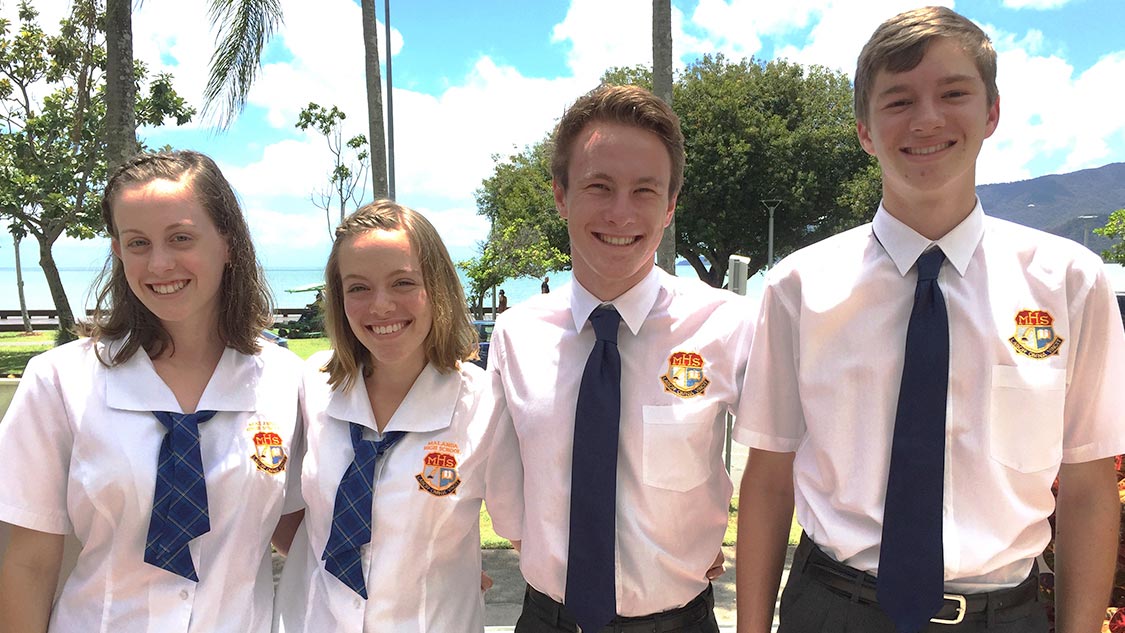 Quick Facts
Gegründet: 1963
Schüler: 440
Addresse: Memorial Avenue, Malanda QLD
Lage: Cairns
Website: malandashs.eq.edu.au
BEWERBUNG
Erhalten Sie eine kostenfreie Schulberatung zu den Zulassungsvoraussetzungen und Bewerbungsunterlagen für einen Schüleraustausch an der Malanda State High School.
Besondere Programme an der Malanda State High School
Registered Training Organisation (RTO) offering vocational programs
Global Tropics Future STEM (Science, Technology, Engineering and Mathematics) program
Embedded technology in agriculture (drones, farm bots)
Year 10 extension classes in mathematics and science
Senior community based projects to support the local community members