Southern River College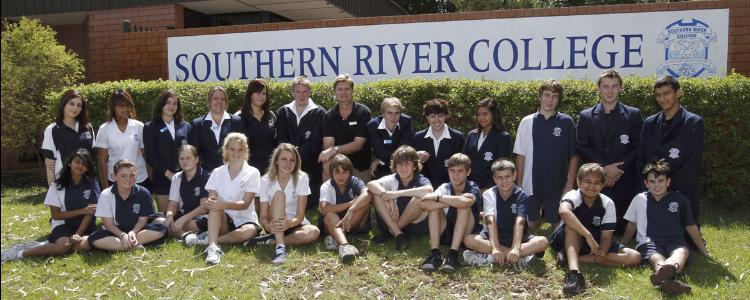 Southern River College has consistently achieved an outstanding record of providing graduating students with their preferred career pathways, whether students set goals for higher education at University and TAFE or choose to enter the workforce. The College is a 7 to 12 comprehensive school catering for an array of students and their aspirations. 
The college has a new strategic direction and is offering Focus Programs aligned to our Minerals and Energy Academy. Students can undertake specialised studies in Academic, Technology and Trades Areas. In conjunction with our resource focus students can specialise in soccer, netball and music, along with the normal Australian Curriculum requirements. There is a big focus on Science, Technology, Engineering and Mathematics Programs with strong links to Industry and Universities providing unique opportunities for students to achieve within and beyond the classroom. 
The school has a strong commitment to the pastoral welfare of its students and has successfully implemented a whole-school program. This management structure provides an appropriate level of support and a sense of belonging for students. The college is a comprehensive school 8 to 12 that prides itself of delivering quality teaching and learning programs to our students. Our students in particular have the opportunity to varying pathways that are tailored to meet the needs of the individual. We encourage our students to be the best they can be and pride ourselves on delivering first class curriculum and pastoral care. 
Our partner primary schools are Ashburton PS, Bletchley Park PS, Gosnells PS, Huntingdale PS, Piara Waters, Seaforth PS and Wirrabirra PS. Our school has a rich history, this being our 39th year in operation. We have much to celebrate. Last year our students again had great success with our Year 12 graduating class both at the individual student level and as a cohort. For our efforts in 2014 we were again presented with a Top Public School Award for VET and graduation 100% and attained 94% attainment levels. 
There is a strong student service program supporting the needs our students and community, providing support to students, staff and parents in order to facilitate the academic, social, psychological, physical and vocational development of students to help them become capable and happy young adults. This is in line with our values of the 4rs Relationships, Respect for self, others and the environment. 
Southern River College's motto, 'Respect and Understanding' is the foundation for the core values which are promoted across the College and to the broader community. 'Respect and Understanding' reflects our intentions to develop a supportive and inclusive environment for all students. 
The College has developed and profiled our unique '4R's:
* Relationships
* Respect for Oneself
* Respect for Others
* Respect for the Environment
The '4R's are symbolic of the values which we believe our students can take with them on their journey through life. These are clearly articulated throughout the College community by students and staff as we work together on a daily basis. 
Southern River College focuses on developing supportive relationships between parents, students and staff. By demonstrating 'Respect and Understanding' our students and school community feel supported and valued on a day-to-day basis.
THE CURRICULUM
Planning and provision of the curriculum is developed collaboratively by teaching staff to ensure appropriate curriculum emphasis for each phase of schooling. The planning and delivery of the curriculum is consistent with the Outcomes and Standards Framework and offers a range of opportunities for our students to develop the necessary skills, knowledge and understandings that will support them in their future directions. 
The College recognizes that the curriculum and therefore learning, must relate to students and their particular phase of schooling.
The delivery of the curriculum in the middle school (year 8-9) is connected into their world,and focuses on developing programs that meet the individual needs of students. Students explore themes across the curriculum. This links the learning areas and promotes meaningful learning. 'Learning to Learn' strategies, literacy and information communications technology are embedded into the learning program.
A specialized program to improve literacy and numeracy levels of Lower School students operates throughout the year and provides students with additional assistance. 
Students from Year 10 on engage in Senior Secondary Programs. Opportunities exist for students to have extension at University, through work experience, TAFE placements and other community based projects. These programs assist our students in making informed decisions about their future career pathways.
On entering the senior school in year 10,11 and 12, a variety of courses and programs are offered which cater to the individual needs of students. These courses motivate and engage our students and connect students learning to their future directions. These include ATAR Courses of Studies, Tertiary Entrance Examination (ATAR) subjects, subjects and Vocational Education Training (VET) pathways that include significant links to TAFE. A Building and Construction and Automotive program enables students the opportunity to complete courses that lead to apprenticeships. 
Embedded into many of the courses and subjects on offer, are units of competency. These units of competency contribute to the learning program of students, are recognized by industry and contribute to graduation through TAFE level certification. 
COLLEGE STRUCTURES
The College operates in a collaborative manner and achieves this though teams of teachers.
In recognition that learning must relate to students and their particular phase of schooling, the College has a dedicated Lower School for year 7 - 9 students and a Senior School for year 10 - 12 students. 
Teachers collaborate in cross curriculum teams to define and construct the curriculum, to monitor academic progress and to plan for the pastoral care needs of our students. This ensures consistent and inclusive approaches to the learning environment.
Common planning time for teachers is a key characteristic which promotes collaboration and for the sharing of best practice.
Heads of Learning Areas are responsible for the learning area outcomes. 
PASTORAL CARE AND STUDENTS
Student Services exists to provide support to students, staff and parents in order to facilitate the academic, social, psychological, physical and vocational development of students to help them become capable and happy young adults. The Student Services Teams aim to develop a culture that values learning and social opportunity in a safe and inclusive environment. Separate teams operate for the Middle School and Senior School.
The Student Services Team consists of Student Service Managers, Year Coordinators, Psychologist, Chaplain, Nurse, Aboriginal and Indigenous Education Officer, School Welfare Officer and Youth Worker. The Deputy Principal leads the team in their area of responsibility. 
Support for student's pastoral care is a whole school approach and all staff are engaged in this process. Teams of teachers meet weekly to discuss the needs of students in their classes. 
COMMUNITY PARTNERSHIPS
The Gosnells Education, Training & Industry Links (GETIL) is a business group aiming to develop effective partnerships between Southern River College, the City of Gosnells and local business and industry for the benefit of the students who attend the College. 
The aim of the program is to build links between local industry, students and the broader community through activities that will increase knowledge and opportunity for careers and further education and training for the young people of Southern River College.
This group aims to develop a coordinated approach to ensure that a cohesive and comprehensive partnership develops between the three sectors. GETIL offers scholarships to the students of Southern River College, and enables students to have future education and training supported, reducing financial costs. 
FACILITIES AND RESOURCES
The College facilities have been extensively renewed. Included in the refurbishment is a new Technology and Enterprise Centre (Home Economics, Business Education and Design and Technology); new cafateria; extended library with improved technology facilities; a senior school block and a refurbished administration block. The school now has state of the art facilities which will enhance the learning environment for all students.