Southern Cross Education Institute (SCEI)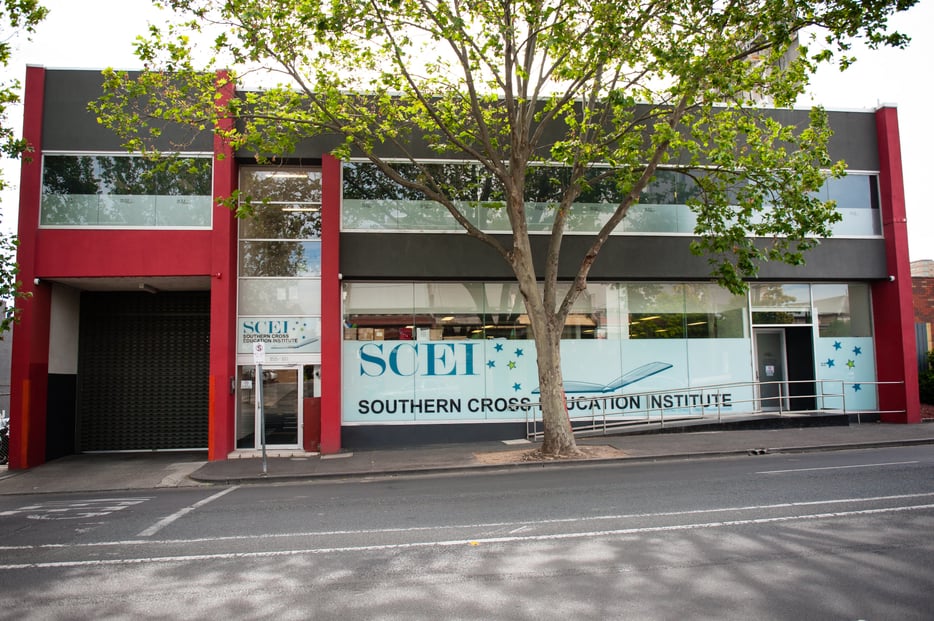 CRICOS Number 02934D
Locations: Adeliade / Melbourne
Southern Cross Education Institute | SCEI
The Certificates I to IV in English as an Additional Language (EAL) is designed for students who want to improve their reading, writing, listening and language skills to assist them to participate in the Australian community.
Southern Cross Education Institute (SCEI) recommends that students with low levels of English language proficiency undertake any or all of the EAL courses prior to commencing a VET or pathway course. Completing one or more of these EAL courses will prepare the student for entry into and successful completion of their chosen VET or pathway course.
Kurse

GENERAL ENGLISH BEGINNER
GENERAL ENGLISH ELEMENTARY
GENERAL ENGLISH INTERMEDIATE
GENERAL ENGLISH PRE-INTERMEDIATE
GENERAL ENGLISH UPPER INTERMEDIATE
IELTS PREPARATION (ADVANCED)
IELTS PREPARATION (UPPER INTERMEDIATE)
22250VIC – CERTIFICATE I IN EAL (ACCESS)
22251VIC – CERTIFICATE II IN EAL (ACCESS)
22255VIC – CERTIFICATE III IN EAL (FURTHER STUDY)
22258VIC – CERTIFICATE IV IN EAL (FURTHER STUDY)
Studienorte
Studieren in Adelaide, der 1-Millionen Hauptstadt von South Australia, bringt die Möglichkeit zu vielen Touren z.B. zu der nahe gelegenen Kangaroo Island mit sich. Von Adelaide aus starten auch die bekannten Outback Touren nach Alice Springs, zu dem berühmten Ayers Rock, den Olgas oder dem Kings Canyon. Im März  findet das Adelaide Festival of Arts statt. Dies wird alle zwei Jahre abgehalten und bedeutet abwechslungsreiche und spannende Tage für Studenten.
Bewerbung
Haben wir Ihr Interesse für einem Englischkurs an der Sprachschule Southern Cross Education Institute (SCEI) geweckt? Dann schicken Sie eine E-mail an AA Education Network um die Anmeldeformulare zu erhalten. Durch unser Engagement und unsere kostenfreie Studienberatung gewährleisten wir Ihnen einen schnellen Bearbeitungsprozess und ersparen Ihnen eine Menge Kopfweh im Umgang mit eventuell auftretenden bürokratischen Hürden. U.a. erhalten Sie Discounts und andere
Vergünstigungen (z.B. Kostenfreie Serviceleistung: Sprachtest, Sprachexamen, Überzetzungen... ).
Wir schicken Ihnen gerne auf Anfrage die Anmeldeformen des oben genannten College per E-Mail zu.
Southern Cross Education Institute (SCEI) Adelaide Campus
Lvl 2, 14-16 Grote Street, Adelaide, SA 5000