Girrawheen Senior High School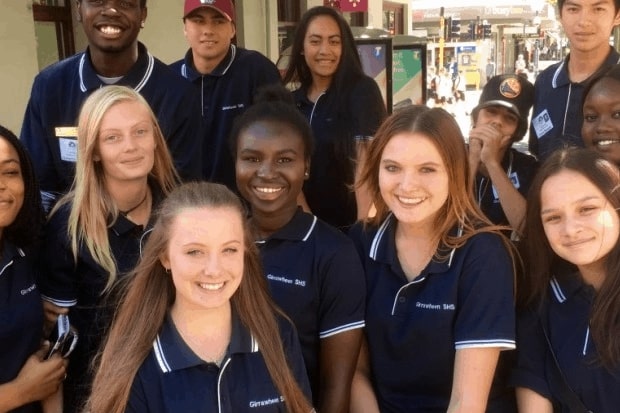 Our students and staff are part of the Girrawheen Senior High School community – where everybody knows your name, everyone is valued and we all share a sense of belonging.
With our student body celebrated for its rich cultural diversity and our staff of dedicated professionals, our learning environment is vibrant and innovative.
We aim for every student to become a skilled young adult who shares our core values of Respect, Responsibility and Doing Your Best. Add to the mix strong partnerships between parents, past and present students, organisations and community and the result is what we call 'Unity is Strength'.
We support students to develop problem solving skills in our Maths Academy which includes a five-day Summer School at The University of Western Australia. For students wanting to pursue careers in building and construction, they get to combine essential theoretical knowledge with practical skills and workplace experience in our Trade Training Centre. With two large internal workshops and an impressive external workshop, it's the ideal grounding for entry into 11 construction trades.
Students who love to perform will stretch their creative talents in our Performance Arts Academy. The afterschool program hosts workshops with industry professionals, where students have the opportunity to improve self-confidence and develop team skills. They also showcase their performances in local and national productions and events.
And for those who are sporty, they join our dynamic sports program which includes highly competitive basketball, football and soccer squads.
We enable curriculum choices beyond the limits of our school. Through our partnership with other schools in the area in the New North Education Initiative, students have more choices for Year 11 and 12 ATAR and VET subjects and courses taught by specialist teachers across 5 different Senior High Schools.
For our Aboriginal students, the Girrawheen Clontarf Academy for boys (in partnership with the Clontarf Foundation) and Girrawheen Girls' Academy (in partnership with Role Models and Leaders Australia) supports them to develop life skills, self-esteem, and self-discipline, and improve employment prospects. Students are mentored throughout their schooling to achieve their best and complete Year 12.
With parents, families and our dedicated and committed staff – we create a positive and safe learning culture where students are recognised and rewarded for their accomplishments and leave our school with a firm foundation for successful futures.